Amrita SeRVe Villages During Nationwide Lockdown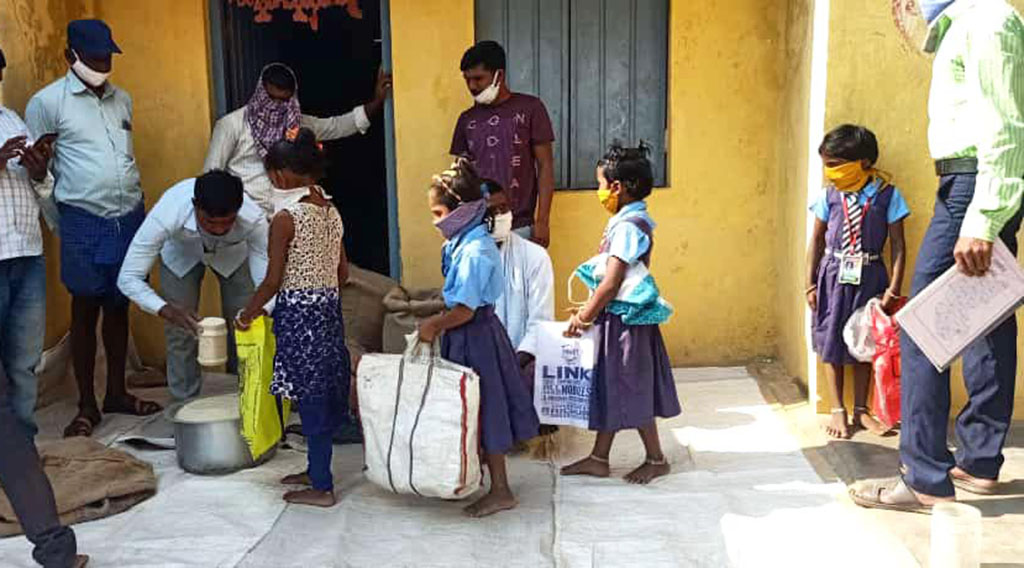 When the Central Government announced the nationwide lockdown on 24th March 2020, Amrita SeRVe had already suspended all activities. In all the villages, the local government, sarpanches and Amrita staff took the responsibility of informing villagers about Coronavirus and how to stay safe during the lockdown.
Soon after, on 26th March, the Finance Minister announced a relief package under Pradhan Mantri Garib Kalyan Yojana, considering especially people living below poverty line.
To ensure adequate availability of protein to all the above mentioned individuals, 1 kg per family, would be provided pulses according to regional preferences for next three months.
These pulses would be provided free of cost by the Government of India.
80 crore poor people will get 5 kg wheat or rice and 1kg of preferred pulses for next three months.
An ex-gratia of Rs 1,000 to 3 crore poor senior citizen, poor widows and poor disabled.
Benefit to farmers: 
The first instalment of Rs 2,000 due in 2020-21 will be front-loaded and paid in April 2020 itself under the PM KISAN Yojana.
Amrita SeRVe Head Quarters have been in contact with the local Amrita staff in the villages during the whole period. Making certain that right information is provided to all and also advising the role of the staff: taking care of themselves and cooperating with government orders and workers. They also have been checking with the villagers that they have received the ration provided by the local ration shop. In some places, the village heads have been contacting the district magistrate to ensure the flow of free ration.
These photos were sent by our local staff to shed light on village life during the COVID-19 lockdown.
18 March Punjab: For the last 3 days, health awareness sessions on Coronavirus were conducted and videos shown in Self-Help Groups.
18 March: The State Government declared holidays for schools in Andhra Pradesh because of Coronavirus. All children and villagers visited school where a meeting was conducted with the school staff. Health awareness was provided by government officials. (photo below)
In Odisha, village coordinator informed villagers about COVID-19 precautions and government rules.
21 March Andhra Pradesh: Awareness meeting was held and homeopathic medicine packets were distributed to all villagers.
22 March: Nationwide Curfew 7 am – 9 pm
Villagers responded to Prime Minister Narendra Modi's call to give thanks to civil servants and other essential professions who keep the country functioning during this difficult period. At 5 pm everyone stepped outside to tune into the nationwide applause.
Uttarakhand: COVID-19 awareness in newspaper clip. (photo below)
23 March Gujarat: Farmers began wheat harvesting and will continue for 10 days.
Rajasthan: Organic wheat harvest.
On 24 March, the nationwide lockdown started
Rajasthan: Daily village visit by Sarpanch and the health team where awareness on Coronavirus was disseminated through a loudspeaker. Village coordinator also supported the team.
Village coordinator from Uttarakhand reports: "Youngsters studying outside and working within the district have returned to their homes by 26th of March." She continues: "Villagers are not coming out of their houses, because they are scared if someone is coming without check-up. Sometimes it rains in the village."
28 March Bihar: Awareness meeting on Coronavirus conducted in Bhedari village in the primary school yard.
Bihar: The Ichari Panchayat organised a safety awareness meeting conducted by the village head Mukhiya Manju Singh and her husband RP Singh. All the 14 ward members, anganwadi workers and ASHA workers and the Amrita staff participated.
Bihar: A moment before going to communities and informing them.
28 March Wayanad: A road closed by government authorities at Kerala border to prevent transit.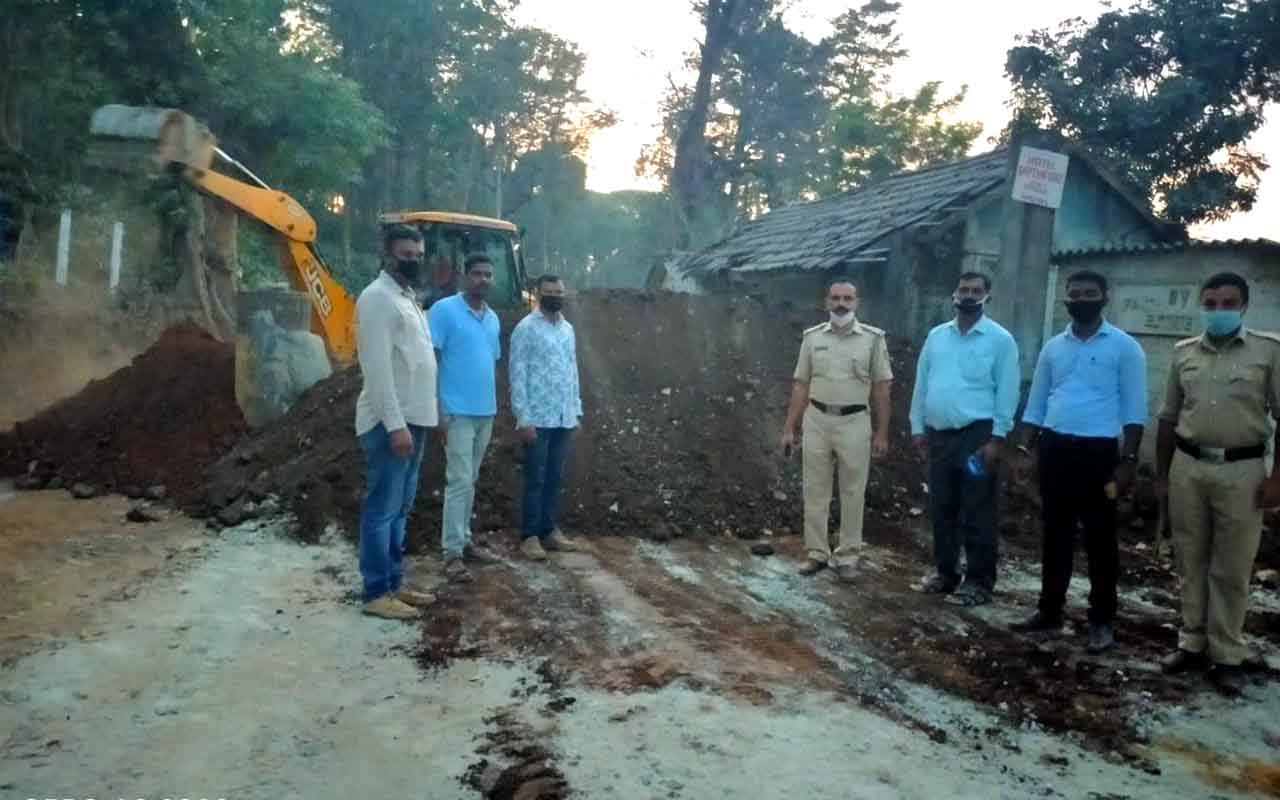 31 March Andhra Pradesh: OM LOKAH SAMASTAH SUKHINO BHAVANTU Shanti mantra ringing in Gudipadi Cheruvu village through the megaphone on roof top.
31 March Karnataka: 5 kg of rice and 1 kg of dal distribution to all students from 1stto 9thclass at school.
2 April Rajasthan: Sarpanch visited village and distributed free ration. On the truck, bundles of 5 kg of wheat were handed over to families. Village coordinator informed that the villagers need tea powder, hand soap, laundry soap, sugar and chilly. Police is verifying Aadhaar cards at checkpoint to permit villagers 15 minutes in nearby town for making purchases.
Second photo: The Sarpanch gave COVID-19 awareness to villagers and organised spraying of disinfectant on public path ways.
2 April Uttarakhand: Gurukulam children meditating.
4 April Andhra Pradesh: State Government distributed government's relief package of Rs 1000 to every ration card holder below poverty line (BPL) for provisions purchase. Villagers received free ration from government: 5 kg of rice and 1 kg of dal. (photo below)
In Gujarat, villagers received free ration: 5 kg of wheat, 10 kg rice, 1 kg dal, sugar 5 kg, salt 1 kg according to number of family members. School children also got free ration from school.
4 April Andhra Pradesh: Village coordinator visited chilly field where the farmers are concluding the harvest. 
5 April Sadivayal, Tamil Nadu: Sadivayal families have been lighting lamps every night for the last seven days to pray for humanity.
Diya Jalao
On April 5th, all India participated in Diya Jalao, the 9 minute lamp lighting at 9 pm, which Prime Minister Narendra Modi had appealed.
Also, Amma requested to light the lamp of hope, compassion and unity saying: "Let us eliminate this poison with the panacea of right action and right thinking at the right time."
Rajasthan: Village coordinator gave awareness session on nature – Prakriti. All villagers unitedly prayed to God: "O Lord, O the Father of the world, please relieve the world from this dangerous disease of Coronavirus.  भगवान से प्रार्थना करते हुए की ऊपर वाले हे परमपिता परमेश्वर हे जगत के पालनहार सभी संसार वासियों को कौराना जैसी महामारी से मुक्त किया जाए यही हमारी आपसे प्रार्थना है."
Villagers lighting lamps and torches, and banging plates in front of their homes.
Andhra Pradesh village coordinator reports that "villagers are staying inside the village repairing pipelines, cleaning drains and children playing games. Farmers go to their fields. During 6 to 9 am is relaxation time. Villagers can go to shop for purchases."
6 April Bihar: High school in Garhani accommodating quarantined migrate workers was visited with medical team, Block Development Officer and village head RP Singh. Fruits, masks, gloves, soap, flour and refined oil were distributed.
9 April Uttarakhand: Saffron is growing in SHG community kitchen garden.
13 April Gujarat: To stitch masks for villagers, school principal had informed Block Office that there are few women who know stitching. Block office gave order to stitch as many masks as possible. Six women prepared 820 masks in total. It takes 2-3 minutes to cut and stitch one mask. In one day, village coordinator Seema (not in photo) was able to stitch 100 masks. She informed that wheat harvest was completed and bajra will be sown. Milk collection, weeding in the fields and household work are other activities done by the women during the day.
14 April Rajasthan: Villagers composed a song on Corona awareness which became a hit on WhatsApp.
Community kitchen garden harvesting where everyone maintained distance while working. (photo below)
14 April Rajasthan: New kitchen garden land is under preparation. SHG meetings have not been conducted since March due to lockdown.
14 April Chhattisgarh: families are working on their fields.
15 April Andhra Pradesh: Second ration distributed by government to villagers: 5 kg of rice and 1 kg of dal per person. (photo below)
"All villagers of Guptapada, Bindhyagiri, Haridamada and Barapita and other villages of Odisha received 3 months ration from government. Also, 1000 rupees for every BPL (below poverty line) and APL (above poverty line) card holders was distributed to buy provisions. Senior citizens above 60 years received old age pension for 5 months in advance," reports the village coordinator.
In Bihar, Jan Dhan account holders received Rs 500 in their bank accounts. Villagers also received ration of 5 kg of rice per family member.
16 April Uttarakhand: labourers were given second quota of free ration. A clip from local newspaper.
17 April Sadivayal: organically cultivated lady finger, beetroot, banana, leafy vegetables, corn, snake gourd, long beans and other vegetables are growing bountifully in the certified land. Tamil Nadu.
20 April Uttarakhand: Garudasana  – yoga practice with face mask.
Second Ration Reached
On 21st April, the local Amrita staff verified for the second time that the government's free ration has reached in villages. According to a local man from Kanti, Haryana, a family was given 10 kg of wheat. Special ration card holders (green and yellow) received 2 kg of sugar along with 1 kg of mustard oil for free.
Indpur villagers in Himachal Pradesh got 5 kg of rice per person. Also, widow, disabled and old-age pensions are distributed door-to-door by the government officials.
In New Thariyal village, Punjab, Jan Dhan account holders received a Rs 500 deposit. Old-age, disabled and widow pensions were provided for two months. The government also transferred Rs 700 to the accounts of families whose gas connection runs under the Ujjwala scheme.