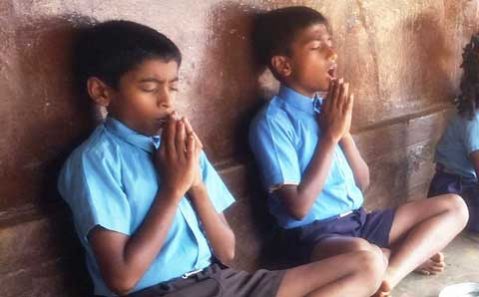 Facing the Reality
A 15 member team from Amrita University travels to Byse, Karnataka
by Resya Reghu
August 2016
A journey with a mission and a vision. This is an apt tag line for our trip to do two weeks of seva in the Amrita SeRVe village of Byse in Karnataka. Our 15 member team was made up of ten girls, three boys, and two faculty members from Amrita Vishwa Vidyapeetham. We were a little tensed at the beginning, especially we students, as we all were toddlers on this mission—only two of us knew Kannada. But the people there welcomed us with the sweet smell of mangoes, jackfruits and pineapples.
Byse is not a small place, as it's actually a combination of four communities—Sulagodu, Kardigere, Sreedharpura and Byse. The main crop is paddy and farmers also grow areca nut. Public transport is available, but not easily accessible. Most of the villagers have their own private vehicles.
However, that meant the only choice left for us to reach our destinations every day was to walk. We were not so worried about it, as we expected a normal path which would bring us some good exercise. But that wasn't the case….
In a nutshell, the walk itself was an adventure. We climbed, jumped and hurdled! On the way, we faced cows, bulls, monkeys, and the very dear dogs of Byse. Some precautions that we took included carrying an umbrella, our only weapon in case of an encounter with any of these creatures. We also banned the colour red for our safety. Day-by-day, our potential and stamina increased.
The main tasks given to us were taking surveys, conducting summer camps, and identifying with details the problems faced by the villagers. The survey days gave onerous duties to all. A total of 250 families lived there. We split into two groups because we had only two Kannada speaking colleagues.
We worked extra hard on survey days, and no matter the distance or rain or dialect, we enjoyed the experience. Each family taught us a deep lesson of life as well as truth. In spite of all the hardships, we were very often cheered by the welcoming smile of many a family on the way.
Their houses are very small indeed, but their hearts are large. One small glass of special jaggery tea imparted the vitality to walk more. We tasted a variety of jackfruit and mango products. Some of the villagers along the way also packed parcels for us to take home. Gradually from being visitors, we became a part of their families.
We realised that surviving with your Hindi and English skills is not at all possible in a village in Karnataka. Thus we fuelled ourselves with Kannada apps on our mobiles and we used some common phrases and words to communicate. The first word we learned was the most important thing for survival—food. But getting by with our beginner skills was a really tough challenge. The two Kannadigas in our team were the real heroes and our sound energies. We tried our best not to tax them too much.
Visiting the Byse government school was the most special experience. There were about 40 students in the classes from first to seventh standard. Their English vocabulary and pronunciation were very poor, as their education system was, obviously, highly challenged. The learning resources were meagre compared to our own schools.
But culturally, these students were surely much superior to us. They all removed their footwear before entering the class. They kept their sandals in a perfect line. They fetched water for everyone from the nearby hand pump. They cleaned the school. They ate their lunch sitting on the floor. They appeared to practise quite a lot of what our tradition held as good social discipline. All the students were talented and good learners. They were ready to do anything for us and always had a big smile along with it.
The day we visited Sulagodu, was also an eye opener to witness the reality of life across our nation. We came face-to-face with the grim reality that dire poverty still exists in our home. Sangeetha, a small girl studying in eighth standard, touched all our hearts with  her sweet smile. She was the only one who spoke to us in English.
She attended school walking  more than four kilometres up and down everyday. Being poor, she had no hope of continuing her studies after tenth standard, like most of the students in this village. The hopelessness of the situation did not in any way affect the cheerfulness of that little girl. She was a true face of inspiration for us.
In actual fact, this journey was an alarm to wake up from our selfishness, ego and anger. As it ended, we realised that this is just the beginning of our new journey to witnessing the grim realities that exist in this world, and how in front of all that, people's hearts can remain compassionate and open to others.
When we said goodbye to our Byse, all the innocent smiles of the villagers reflected in our smiles. What we learned from them was how to truly give from your heart. With Amma's grace, when we completed our 14-day mission, we ourselves transformed into new human beings who can understand the value of  life.
One needs to accept whatever we have been given and that material things cannot quench the thirst for happiness. For that, one needs to love, respect and help each other. We remembered Amma's words: "Love is the only language that every living being can understand."
This sentence had so much impact on our lives during our internship. Now we say with our real smiles that love is universal. Byse was a book for us. A book with lessons about life…. An unforgettable book gifted by our Amma.