Promoting Sustainable Agriculture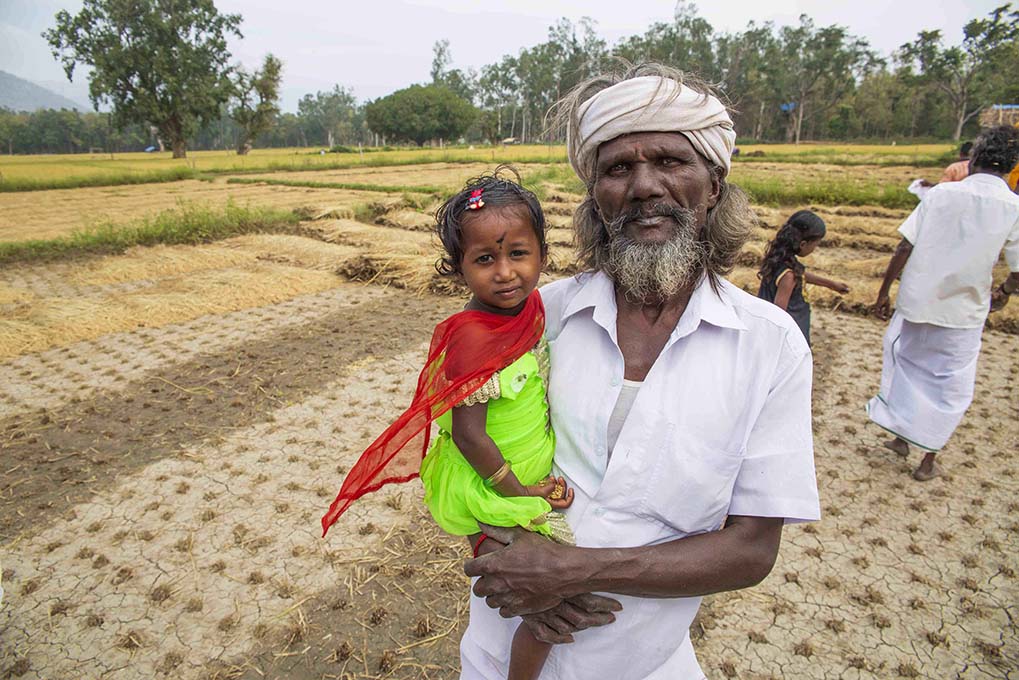 Amrita SeRVe promotes sustainable agriculture with the aim of guiding farmers to adopt profitable natural farming practices that serve their family's economic and nutritional needs, as well as restore nature's health and balance. Over the last five to six years several farmers' groups have been formed that are registered under government schemes and operate with joint bank accounts. These self-governed groups are the first crucial step in the transformation process. The marginal farmers in India's poorest villages rely on the success of their crop for survival. For this reason, the transition to fully organic cultivation has to be accomplished gradually to minimise risk and yield losses. Wherever possible, Amrita SeRVe connects farmers' groups with local and central government affiliated institutions that can support their efforts with certification, training, planting material and financial subsidies. To this day Amrita SeRVe has initiated a wide range of efforts across the country, each corresponding to the local climate, availability of natural resources and needs of the people.
Organic rice in Tamil Nadu
On 35 acres of land in the midst of a reserve forest 20 tribal farming families have laboured as a group to transition from unprofitable chemical practices to fully organic agriculture. They have successfully produced four organic harvests. Recently they received organic certification from the Tamil Nadu Organic Certification Departmentfor the cultivation of rice, mixed vegetables and mango. Their success story has become a role model for neighbouring villages.
Lemongrass in Chhattisgarh
Lemongrass cultivation is considered a dependable source of income that can support farmers throughout the year. The perennial crop can be harvested up to five times per year and is highly resistant to pest attacks, wild animals and extreme climate conditions. Lemongrass is processed into essential oil via a distillation unit that was constructed near the fields. The efforts were carried out in collaboration with and subsidised by CSIR-CIMAP. At present, trials are conducted with similar aromatic plants, citronella and menthol, to diversify production for the sake of income security. With further subsidies availed through the Department of Horticulture, 34 vermicompost beds were setup in late 2019 to provide fertiliser for the fields. The first batch of compost was tested in January 2020 and certified. Now it can be sold to local organic farmers as well.
Organic wheat in Rajasthan
The first fully organic harvest of wheat happened already in 2017 and was a big success. Since then the farmers received additional training in natural farming methods and expanded the share of converted land. In late 2019 they have started producing their own vermicompost intended for use as natural fertilizer in their own fields as well as to sell locally. They are eagerly pursuing their vision of transforming the entire village to fully organic agriculture. At present they are cultivating fully organic wheat on 25 acres. The Amrita Farmers' Club was registered under the central government scheme with the Agriculture Technology Management Agency (ATMA). At present they are in the middle of organic certification.
Chilly and cotton in Andhra Pradesh
The chillies and cotton produced in this extremely hot and dry region are renown across India. By operating as a farmers' group government subsidies were availed and immense savings on seedling purchases were made. The farmer society's collective harvest is traded at markets that used to be out of reach for individual marginal producers. Through this they are able to obtain much better prices and their overall profitability significantly increased.
Organic rice in Kerala
Thirteen tribal farmers formed the Amrita Organic Farmers' Cluband registered the same under the Cooperative Society Act. They are collectively growing five acres of organic Athira rice on land which they have taken on lease.
Pulses and rice in Odisha
Soaring pulses prices have made this staple food that contains essential nutrition for these tribal villagers unaffordable. In response to this need and in partnership with Krishi Vigyan Kendra (KVK), a local government agency, seed crop and training were delivered to newly formed farmers' groups in two neighbouring villages. The same groups have also started cultivating indigenous varieties of rice paddy. For this, subsidies from the Department of Agriculture were facilitated to increase profitability. Indigenous varieties are beneficial due to their rich composition of vitamins, protein, fats, minerals and carbohydrates.
Mixed vegetables and grains in Gujarat
Since 2018 the farmers' group holds regular meetings and makes monthly deposits into their joint bank account. The farmers are intent on converting their diverse agriculture to organic practices. They registered with theAgriculture Technology Management Agency (ATMA) and began receiving training.
Rice cultivation in Telangana
In January 2020, the yield of the first pilot study in collaboration with the Indian Institute of Rice Research (IIRR), Hyderabad, was successfully harvested. Members of the farmers' group were provided two varieties of rice paddy planting material for trying out new varieties.
Milk co-operative in Gujarat
There are more than 300 buffalos and 75 cows in the village. Buffalos produce well-priced milk that is held in high demand in the commercial dairy sector. Recognising this opportunity villagers were encouraged to approach the Amul Dairy Cooperative, one of India's top milk and dairy brands. As a result, a milk collection unit was set up in 2018 that is managed by a committee of women. For their daily deposits, each milk producer gets their payment twice in a month according to their registered deposits.
Mushroom cultivation in Odisha and Punjab
Growing mushrooms is a great means of income and gives access to a highly nutritious food. For more than two years women of self-help groups (SHGs) in Odisha have successfully grown oyster and button mushrooms. Inspired by their success, women from Punjab and Jammu SHGs have also started cultivation. In all three states, the proud producers sell their mushrooms to neighbours and complement their family's nutrition.