Thinking with a Sense of Compassion
July 2018
Text by: Live-in-Labs®
As part of Amrita Vishwa Vidyapeetham's Live-in-Labs® program, over 100 students and 16 faculty members visited 13 villages across 11 states in India in the month of June. The students and faculty were from School of Engineering of Amritapuri, Bangalore and Coimbatore Campus and from School of Biotechnology of Amritapuri Campus. The 10-day visit, which included travel to and from the villages, was done in collaboration with the Amrita Self-Reliant Villages (Amrita SeRVe).
Live-in-Labs® is a credit-based experiential learning elective course that applies classroom theory in real-world settings for the development of rural communities in India. As part of the course, students attended a six-day activity oriented workshop, conducted separately at each campus, where they were introduced to concepts in Human Centered Design (HCD), research methodology, Co-design, sustainability theories, and Sustainable Social Change Models. After the workshop, students travelled by train to reach their respective villages in the states of Uttarakhand, Uttar Pradesh, Madhya Pradesh, West Bengal, Orissa, Chhattisgarh, Punjab, Jammu, Jharkhand, Gujarat and Bihar. The workshop was conducted by staff from the Amrita Center for International Programs (ACIP) between May 30th and June 21st 2018, and was attended by interested students from Engineering and Biotechnology departments.
Through the village visit, the students had an opportunity to experience the real world through the eyes of a common villager. They were exposed to a whole new environment which they had never thought that they would ever be a part of. Living in an area surrounded by many farms with plush green grass, farmers working in fields, women fetching water, cows grazing and many other activities that were taking place in a natural scenic setting brought in a mood of inquisitiveness among students. Though the students were deprived of many conveniences, they didn't really miss it as they had quickly soaked into the village culture.
Students spent the days in understanding challenges in the areas of health, water, irrigation, energy, skill development, waste management, agriculture, livelihood generation and infrastructure. In many areas, the students were struck by the level of hospitality that the villagers extended. In this process they also got an opportunity to see the amount of work done by Amrita SeRVe, AMMACHI Labs, Amrita CREATE and Amrita WNA in many areas. The students have themselves admitted that they were not aware that Amrita has done such extensive research which is driven towards social welfare.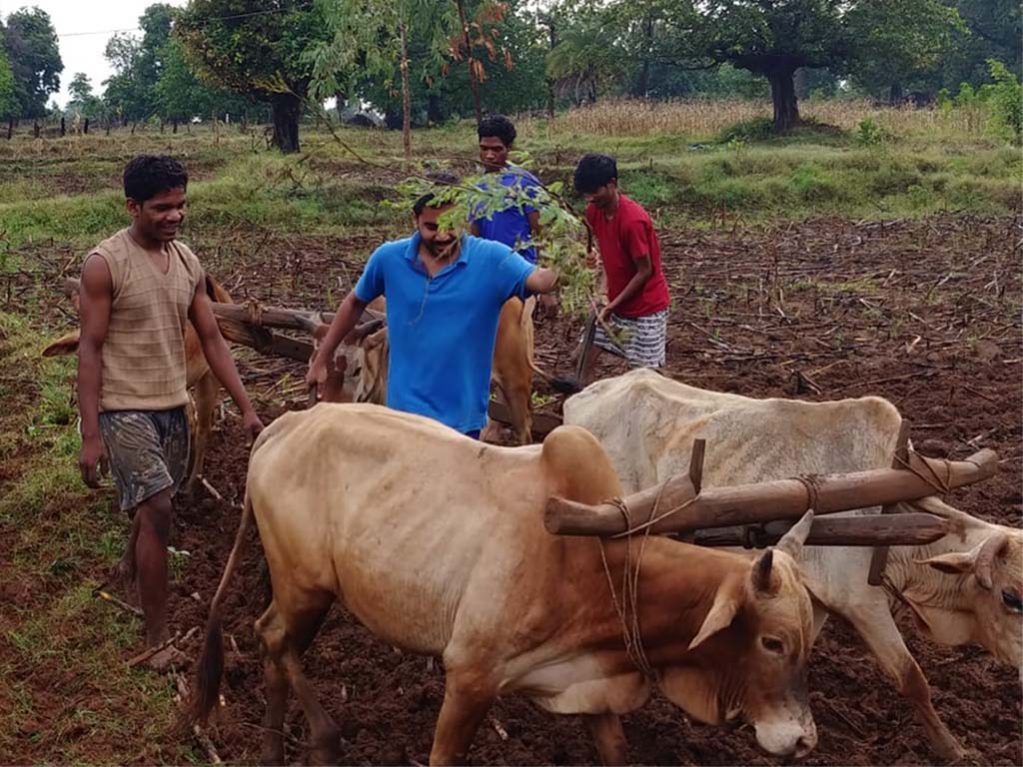 Waking up early in the morning and fetching water using a hand pump is indeed an experience in itself. Their inquisitiveness had motivated the students to go and help the farmers in ploughing the fields, rearing cattle and in some villages, the students had gone out of their way to reconstruct a well and install pulleys which facilitated women to draw water from the well. By this, the students were able to experience the hardships faced by villagers to carry out their day-to-day activities, which further fueled their desire to come up with a suitable intervention that would ease the life of these villagers to a certain extent.
According to Eashwaramoorthy, a student from the department of Mechanical Engineering, Amritapuri: "On seeing the way these villagers live has prompted me to start thinking with a sense of compassion." Indeed, this experience has instilled a sense of compassion among the students which is the very basis of their designing and implementation strategy. As quoted by one of the faculty who was a part of the village visit: "Bringing the students in this village environment has provided them a deeper sense of empathy on both personal and academic level. Such experiences would definitely help mould their character and perception."
Faculty departments involved by campus
Campus
Department

Coimbatore

Mathematics

Civil

Computational Engineering and Networking

Cyber Security

Mechanical

Bangalore

Electronics and Communication

Computer Science

Mechanical

Amritapuri

Electrical and Electronics Engineering

Computer Science

Electronics and Communication Engineering