Working Together Builds Unity
Situated at the top of a hill, the population of Wayanad Village is approximately 270 with 60 households. Through the Amrita SeRVe village coordinator, Haridas, families from the newly formed farmers' club are now able to lease land from the valley below their village. Planting started on July 6, 2017.  Almost straight from the harvest in December, club members rushed to Amritapuri to present plates of rice to Amma as a sign of gratitude for her support and encouragement.
"We were eagerly waiting to somehow get some land," said Vinita of Wayanad Village in Kerala. Proudly displaying a handful of  home-grown organic rice grains, she smiled. "Now that we've gotten some, we are very happy," she said.
The farmers' club from Wayanad village came to Amritapuri in December, bringing with them an example of their organic Aadhira rice. Up until recently, the main crops had been coffee and pepper. However, inspired by the Amrita SeRVe team, 13 families have joined together in their efforts to grow food for their own consumption.
Haridas explains how a fundamental problem was solved: "The main problem is that they don't have enough food. This problem is solved when families work together, increasing the yield. The crop is then equally divided according to their family strength."
Benefits are far-reaching: "Later on, when they learn from this small group, they can take more land on lease and cultivate more food for themselves, which they may even choose to sell."
Haridas also helped bridge the gap between the village and its neighboring village, which had previously lacked confidence in the tribal community's ability to successfully farm a field. This connection resulted in the first land lease from the neighbouring village below the valley to the tribal community on the top of the hill.
The benefits of working together from planting to harvesting gave the villagers the confidence to cultivate a rice crop. As Haridas sees it, organic farming, which the families chose because it lacked the money to purchase fertilizers, is quite positive: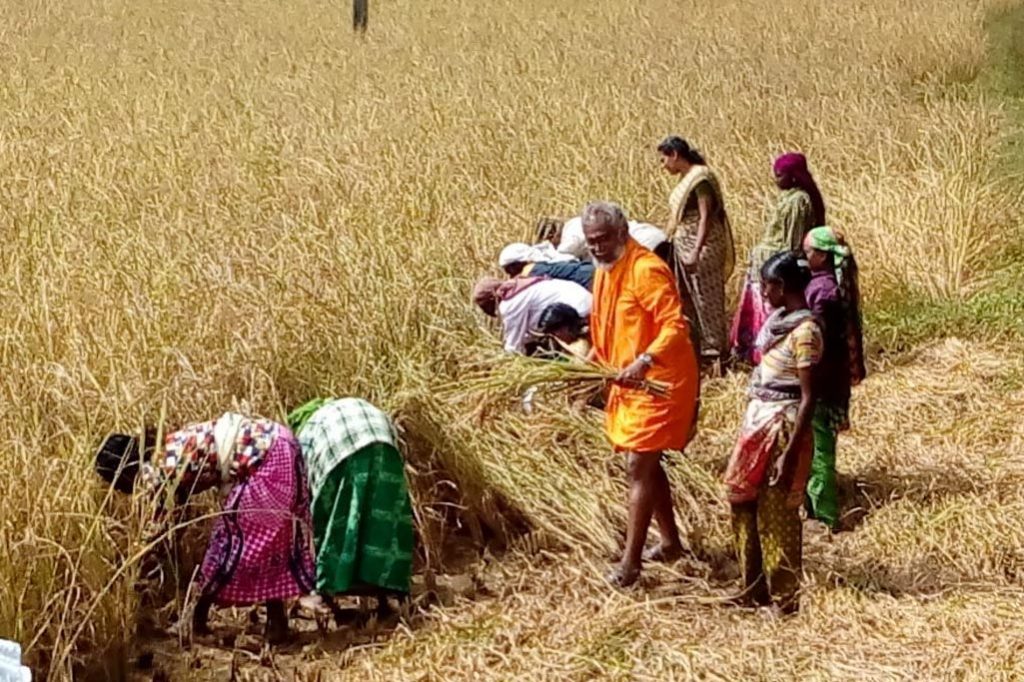 "They can get the manure from whatever waste they have, so there's no need to purchase any. However, since they don't actually own any land, they need a greater yield. This rice yield is mostly used for their own consumption. These families have worked on others' fields for so many years. This is the first time they are experiencing how it feels to grow food for themselves."
Rajan, a member of the farmers' club, speaks on behalf of the entire club about reaping the harvest: "Extremely happy!" he exclaims. Encouraged by this initial success, this farmers' club is ready to continue: "If we have land, we are all ready to do whatever labor is needed," one member says while the others nod their agreement.